UVOZ 1200 Ozone Concentration Monitor Portable Ozone Meter Gas Ozone Analyzer
Product Detail
Product Tags
Product characteristics
1) Test method: dual-light path ultraviolet light absorption method, long-life light source system, high measurement accuracy.
2) Measurement principle: according to the Lambert-Bill law, accurately measured through the luminosity absorption principle.
3) Light source system: long-life ultraviolet light source system (wavelength 253.7nm).
4) Usage: indoor installation and use, equipped with power supply and signal terminals.
5) Optical pool system: separated optical pool technology, no leakage, high pressure resistance, high flow resistance to sampling gas impact.
6) Intelligent compensation: built-in temperature and pressure compensation and display, with light source automatic compensation function.
7) Operation mode: users can select manual and automatic zero according to the operation status, and set automatic zero time.
8) Display units: g / Nm3, mg / NL,%WT, ppm, mg / Nm3 is optional.
9) Data display: high-definition color touch screen, high concentration range set into the gas mass flow, real-time display output.
10) Output function: 4-20mA, RS485 communication, two groups of alarm point output, electronic flow meter input, etc.
Ozone Gas Concentration Analyzer-Positive Pressure Sampling Connecting Process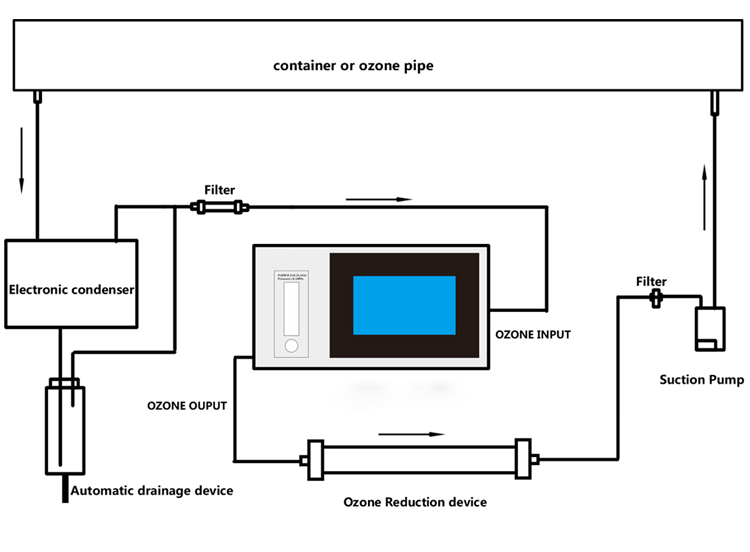 Technical Parameter
| | |
| --- | --- |
| Measuring range | 0-300g / Nm3 |
| Optional range | 0-200g / Nm3,0-100g / Nm3,0-50g / Nm3,0-1000ppm, 0-100ppm |
| Light source life | about 30000-50000 hours |
| Sampling method | positive pressure sampling, negative pressure sampling (optional) |
| Display interface | 4.3-inch touch screen operation interface |
| Content interface | Ozone concentration, temperature and pressure |
| Auxiliary functions | temperature compensation, pressure compensation |
| Display units | g / Nm3, mg / NL,%WT, ppm, mg / Nm3 is optional |
| Display resolution | 0.01 g/m3,0.01ppm |
| Gas flow rate | 0.5L±0.2L/min |
| Input pressure | <0.1Mpa |
| Concentration error | maximum of 0.3%FS |
| Linear error | maximum of 0.2%FS |
| Zero-point drift | <± 0.3%.FS |
| Reaction time | 0.03 seconds of signal, 0.3 seconds of display |
| Ambient temperature | -20~50℃ |
| Pipeline interface mode | quick twist (stainless steel) |
| Series joint sample diameter | 8 (8mm * 6mm) (optional) |
| Bypass sampling diameter | 6 (6mm * 4mm) |
| Communication mode | RS-485 |
| Output mode | 4-20mA (active) |
| Secondary telecom signal | high alarm point relay telecom signal, low alarm point relay telecom signal |
| Power supply | AC 110-220V |
| Dimensions | 160mm (height) 260mm (width) 300mm (depth) |
| Note | 1 mg/L = 1 g/m3=467PPM |
| Free warranty | 24 months (host) |
| Note | Standard configuration (built-in): flowmeter, ozone tail gas catalyst, intake filter |
---
Next:
Bathroom Household Ozone Washing Machine Small Wall-Mounted Ozone Laundry System For Wash Clothes
---